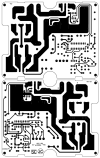 10A/230VAC Universal Motor Speed Controller PCB pattern (PDF download) [10102141]

PCB pattern for the Super Smooth 230VAC 10A Brush Motor Speed Controller (double-sided).

Note that due to the high voltages involved and number of vias, it is not recommended to make this PCB yourself. We sell PCBs with a solder mask on both sides which greatly reduces the chance of arcing or breakdown and they also have plated vias.


Cat No SC0963. Price: AUD $3.00 1
Add to trolley
Related to:

Other items relevant for these projects: