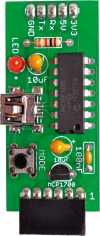 Microbridge complete kit

A kit of all the parts required to build the Microbridge. This includes:


PCB (green)
Programmed microcontroller and IC socket
3.3V low-dropout regulator
All capacitors (ceramic types supplied)
USB socket
Pin headers (male and female)
1kΩ resistor

The PCB, programmed microcontroller and regulator are also available separately.

For assembly instructions, see the article in the May 2017 issue.

PLEASE NOTE: the 10µF capacitors supplied are non-polarised SMD ceramic types. They have no markings and can be installed either way around.