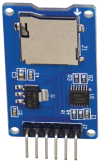 microSD Card Adaptor Module

A small module with microSD card socket, 6-pin header, onboard 3.3V LDO voltage regulator and SN74LV125A buffer. Simplifies interfacing a microSD card to a 5V-powered microcontroller such as the Arduino Uno.

For more information, see our article on this module in the January 2017 issue ("Using Cheap Asian Electronic Modules Part 3").


Cat No SC4019. Price: AUD $2.50 1
Add to trolley
In stock: yes (6 available). Estimated dispatch time: up to 3 days
Related to:

Other items relevant for these projects:

Arduino Data Logger:Low cost, Arduino-based 3-Axis Seismograph:El Cheapo Modules From Asia - Part 3: