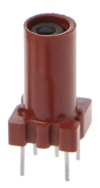 RF Coil Former with Adjustable Ferrite Core

A coil former with ferrite slug. Can be used for the Planet Jupiter Receiver (three formers required).

This is similar to SBK-71K but without the shield can. The Jaycar LF1227 set originally specified is no longer available. There are a few differences so some slight modifications need to be made in order to fit the new coil former on the PCB:

1) This former has five pins rather than two. The extra pins can be cut off or, where they will fit into an existing PCB mounting hole, used as tap connection points.
2) This former is slightly smaller so you will need to use 0.25mm diameter ECW rather than the 0.3mm diameter specified in the SiDRADIO parts list. The number of turns remains the same.
3) You may need to bend the pins slightly to fit them into the PCB mounting pads.