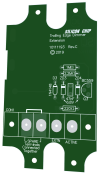 Touch and IR Remote Control Trailing Edge Dimmer Extension PCB [10111193]

Extension PCB for the Versatile Trailing Edge Dimmer with Touch and/or Infrared Remote Control.

Note that you also need one Mounting PCB (10111192) to assemble this board.

Double-sided PCB with plated through holes, solder mask and silkscreen overlay.

58.5 x 104mm.