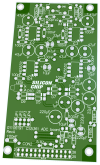 DSP Crossover ADC PCB [01106191]

The analog-to-digital Converter PCB for the DSP Active Crossover.

Double-sided PCB with plated through holes, solder mask and silkscreen overlay.

55 x 101mm


Cat No SC5017. Price: AUD $7.50 1
Add to trolley
In stock: yes (14 available). Estimated dispatch time: up to 3 days
Related to:

Error: Database error: unable to query database.